Halloween Chili (make it with the kids)
1 1/4 lb ground goblin gizzards: (ground beef 15% fat)
1 med eye of Cyclops (onion)
15 oz Can soft shelled beetles: (kidney beans)
28 oz Can blood of bat: (V-8 juice)
1/8 ts pureed wasp: (prepared mustard)
1/4 ts common dried weed: (oregano)
1 ds Redtailed hawk toenails: (crushed red pepper) 2 ts ground sumac blossom: (chili powder)
1 ts hemlock: (honey or sugar)
1/2 c fresh grubs: (sliced celery)
1 TB eye of Newt: (pearled barley)
1 TB dried maggots: (uncooked rice)
Water from a stagnant pond: (tap water) Substitutions are in parenthesis.

Best made during the last phase of the moon, if that is not possible, just do the best you can in a softly lighted kitchen after dark.

Brown the gizzards in an iron cauldron over a fire made from the siding off of a haunted house, add chopped eye of cyclops and simmer until the pieces of eye become translucent again, add blood of bat, and soft shelled beetles, bring to a slow bubbling boil. At this time, add the common weed, maggots, toenails, sumac, grubs, hemlock, eye of newt and the pureed wasp.

As it cooks you may want to adjust the consistency with pond water. You can tell it is done when the eye of newt swells and the vertical tan colored 'cats eye' appears on one side.

Spider Rolls
Use frozen dough for dinner rolls to make a batch of hot-and-tasty baked spiders.
Each spider requires two rolls. Use one roll for the body and divide the second roll into thirds to make the head and legs. Use one-third of the second roll for the head, and divide the remaining two-thirds into four equal portions and roll into thin logs for the legs.

Take the thin logs and make two U-shaped legs going down and two U-shaped legs going up.

Place the large roll on the back for the body and the small roll on the front for the head

Give the dough spider an egg wash or spray.

Sprinkle poppy seeds over the spider and bake according to the instructions on the dinner roll package.
Coleslaw with Apples
If you like, add some shredded carrots.
Whisk 1/2 cup lowfat lemon yogurt with 2 Tbsp cider vinegar, 1 Tbsp light mayonnaise and 1/4 tsp each salt and ground pepper in a medium bowl.
Add 4 cups thinly sliced or shredded green and red cabbage and 1 Golden Delicious apple, cut in thin wedges.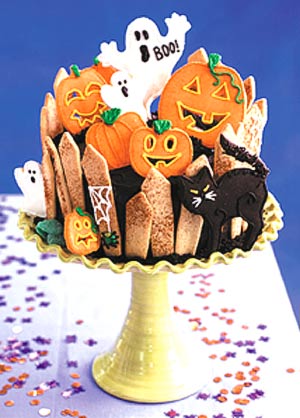 Pumpkin Patch Cake


Planning Tip:
The cake layers may be wrapped and frozen up to 1 month. The cookies and fence pickets can be baked and the cookies and cake frosted up to 2 days ahead. Store separately, loosely covered at room temperature. Add cookies to cake shortly before serving.
3/4 cup all-purpose flour
1 roll (18 oz) refrigerated sugar-cookie dough
1 can (16 oz) plus 1 cup vanilla frosting
Yellow, green and orange paste or gel food color
1 can (16 oz) plus 1 cup chocolate frosting
Two 8 x 2-in. cooled, baked cake layers
Orange and clear coarse sugar (optional)
Chocolate sprinkles (jimmies, optional)
1 Tbsp cocoa powder
1/2 cup finely ground (in blender or food processor) chocolate wafers or chocolate sandwich cookies
1. Have ready baking sheet(s), 1 1/2- to 3-in. pumpkin and ghost cookie cutters, a 2 1/2- to 3-in. cat cookie cutter, wooden toothpicks and five 1-qt-size ziptop freezer bags.
2. Knead flour into cookie dough until completely blended. Roll out with a rolling pin to a scant 1/4 in. thick. Cut out about twenty 2 1/2- to 3-in. fence pickets, tapered from about 3/4 in. wide at top to 1/2 in. at bottom. Cut an inverted v at top of each. Cut out cookies with cutters; reroll and cut scraps. Place about 1 in. apart on ungreased baking sheet(s). Cut out pumpkin features with the tip of a pointed, small knife. Insert toothpicks into bottoms of cookies that will be set into top of the cake.
3. Bake 10 to 12 minutes until golden brown. Transfer to a wire rack to cool.
4. Tint 1/4 cup vanilla frosting yellow and 1/4 cup green. Spoon each into a ziptop bag; seal bags. Put half the remaining vanilla frosting in a microwave-safe bowl; tint orange. Spoon 1/4 cup into a bag; seal bag. Spoon 1/4 cup of the remaining untinted vanilla frosting into a bag and 1/4 cup chocolate frosting into another bag. Seal bags; set aside.
5. Place pumpkin cookies on a wire rack set over a wax-paper-lined baking sheet. Heat orange frosting in bowl in microwave on high 5 seconds or just until thin enough to pour (dont overheat). Pour over cookies, covering them completely (reheat frosting if needed). Transfer cookies to a flat surface; let stand at least 1 hour until dry. Repeat with untinted vanilla frosting for the ghosts; 1/4 cup chocolate frosting for the cat. Dust fence pickets lightly with cocoa powder.
6. Meanwhile, on a serving plate, using remaining chocolate frosting, spread about 1/2 cup between cake layers. Remove, cover and reserve 1 Tbsp frosting. Use remaining frosting to coat sides and top of cake.
7. Working with 1 color frosting at a time, snip a tiny tip off corner of bag. Pipe outlines, leaves, features, spider webs and spiders as shown in photo. While wet, sprinkle cats tail with sprinkles, outlines on pumpkins and ghosts with coarse sugar. Let dry completely.
8. Insert cookies with picks into top of cake; arrange fence pickets and other cookies around sides, gluing in place with reserved 1 Tbsp frosting. Sprinkle cookie crumbs at base of cookies on cake and around bottom of cake.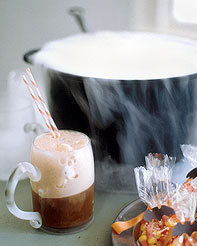 Witches' Brew
Serve root-beer floats from a steaming cauldron made magical with the smoke of dry ice. Youll need a large cauldron and a chilled bowl that fits inside it (dry ice can cause glass to crack, so use bowls made of metal); dry ice (available in supermarkets); frozen root-beer mugs; root beer; and ice cream. Wearing gloves, use an ice pick to break up the dry ice (never touch it with your bare hands); place a few pieces in the cauldron. Cover the ice with water, pushing the ice under with a long wooden spoon if necessary, and place the chilled bowl in the cauldron. Fill the bowl with root beer. Put a scoop of ice cream in each mug, and ladle root beer over the top.