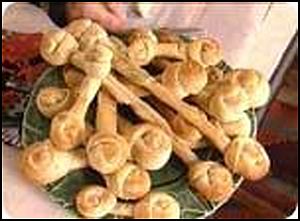 Breadstick Bones
Bake a bag of breadstick bones for your brood of ghosts and goblins this Halloween.
Turn simple breadsticks into sweet Halloween treats. Here's how:
Cut frozen sweet-roll dough into two pieces, or more for smaller breadstick bones portions.


Roll the dough into long, thin logs.


Tie off each end into a knot


Snip a small indentation in the middle of each breadstick to replicate a joint connection.


Sprinkle some cinnamon sugar over the breadsticks.


Bake in the oven for 15 minutes at 325 degrees
Lizard Skins
1/2 c Peanut butter
12 oz Marshmallows
4 dr Green food coloring
4 c Rice krispies; cheerios or cornflakes
Pam spray
16 Raisins Heat peanut butter with marshmallows in a large saucepan over low heat until melted. Add green food coloring and mix in. Pour in cereal and stir quickly. Spray 8" pan with pam then pour contents into pan. Allow to cool in fridge, then cut into long thin strips, about 1" x 4". Cut each raisin in half and stick on one end of each strip to make the lizard's eyes.

Strained Eyeballs
6 Eggs
6 oz Whipped cream cheese
12 Olives with pimento
Red food coloring or catsup Hard boil the eggs, peel and cool. Halve lengthwise and remove yolks. Fill hole with the creamed cheese and smooth surface as much as possible. Press an olive into each cream cheese eyeball with the pimento up for an eerie green iris and red pupil. Dip a toothpick in catsup and draw broken blood vessels in cream cheese. A Halloween party must

Spider Sandwiches
Take bread and put peanut butter on each slice and cut into a circle.On top place two raisins for eyes and if you want a nose you can use a raisin for that also.Use licorice for the whiskers (black or chocolate).For legs use cheetos for the 8 legs and there you go a nice treat before trick or treat
Halloween Crisp Candy Corn Treats
1/2 c Butter
10 c Crispy rice cereal
9 c Miniature marshmallows
2 c Candy corn
3/4 c Miniature chocolate chips
Candy pumpkins
Orange food coloring*
Black licorice, cut into small pieces *Mix together red and yellow food coloring to make orange.
Melt butter and marshmallows; stir until smooth. In a large bowl, mix rice cereal, candy corn and miniature chips together. Add orange food coloring to marshmallow mixture, or squirt over cereal in bowl. Add marshmallow mixture to cereal mixture; stir quickly to combine. Spread on a large buttered jelly roll pan; press with buttered hands. While warm, press on candy pumpkins spaced 1 to 2 inches apart. Refrigerate and cut into squares. Add pieces of licorice to the tops

Bewitching Hands



Planning Tip:
Can be refrigerated in a rigid airtight container with wax paper between layers up to 1 day or frozen up to 1 month.
Green and yellow liquid food color
1/2 an 18-oz roll refrigerated sugar-cookie dough
1/4 cup all-purpose flour

Fingernails:
Candy corn

1. Heat oven to 350°F. Have ready a 33/4 x 23/4-in. hand-shaped cookie cutter (see Note) and baking sheet(s).

2. Knead drops of food color into dough until a yucky green. Knead flour into dough. Shape into a 1-in.-thick disk, wrap and refrigerate 1 hour or until firm enough to roll out.

3. On a lightly floured surface with a floured rolling pin, roll dough to 1/4 in. thick. Cut out hands. Reroll and cut scraps once; reserve remaining scraps.

4. Place half the hands (see Tip) 3 in. apart on ungreased baking sheet. Make a 1-in. cut between each finger toward palm. Pinch fingers so each is about 1 in. longer, thinner, wavy and gnarled. Press down on fingertips (so candy-corn nails will fit later) and on palms to make a little thinner. Mark knuckles with back of a knife. Roll reserved scraps into balls for warts. Gently press warts on hands.

5. Bake 7 to 9 minutes until pale golden around edges. Remove and immediately press candy-corn nails on fingertips. Cool hands on sheet on a wire rack 5 minutes before removing cookies to rack to cool completely. Repeat with remaining hands.


Tip:
If a hand-shaped cookie cutter is unavailable, draw the outline of a small childs hand on cardboard, cut out, use as a pattern to cut out the dough, then proceed with Step 4. Yields will vary.

Halloween Party Pops

1 pk Refrigerated sliceable cookie dough
20 Wooden sticks
Your Favorite Frosting Cut dough into aobut twenty 1/2 inch slices. Roll each slice into a ball. Arrange part of the balls in a circle on ungreased baking sheets, 3 inches apart and 2 inches from edges. Securely insert a wooden stick into each ball with end pointing toward center of cookie sheet. Bake in 350 degrees F. oven for 10 to 14 minutes or until golden brown. Cool 2 minutes; remove from baking sheet. Cool completely on wire racks. Frost or decorate as desired with ready to spread frosting (or your favorite homemade). This is the oldest trick in the book and still is at hit (even with teen-agers). Festive and fun! Decorate the cookies to make pumpkin faces, spider webs and cat faces. Use assorted seasonal candy for eyes, mouth, whiskers, etc.


Ghost Cookies

6 oz Vanilla flavored almond bark
15 1/2 oz Nutter butter cookies
Small black jelly beans Melt almond bark following package directions. Dip 2/3 of each cookie in melted candy, shaking gently to remove excess coating. Place on wire rack with waxed paper underneath. For eyes, cut jellybeans in half and place on cookies. Cool completely before removing from rack.


Cat Poop Cookies

Chocolate Ingredients:
1/2 c Honey
2/3 c Butter, margarine, or lard
1 Egg
1 ts Vanilla extract
2 c Whole wheat flour
1/3 c Cocoa powder
Grape-nuts(tm) cereal Gingerbread Ingredients:
1/4 c Honey
1/4 c Molasses
2/3 c Butter or margarine, or lard
1 Egg
2 1/3 c Whole wheat flour
Ginger, cinnamon, cloves to taste

Grape-nuts(tm) cereal Mix-Ins:Coconut; (tapeworms) Chocolate chips Butterscotch chips Peanut butter chips Spaghetti or ramen noodles, cooked - (roundworms) Corn Peanuts "puffy pastel things" * -find at Chinese restaurants *NOTE: "puffy pastel things are to look like the cat ate styrofoam packing pellets-I haven't tried this To make: microwave the honey till it bubbles(about 1 minute). add the butter,(i've been told using lard makes for a more realistic texture and softer cookie) and the molasses, if any. add the egg, mix well, then mix in all the other stuff. add mix-ins of your choice to some or all of the batter. Chill 1 hour in the freezer or several hours in the fridge. roll dough logs of random length and the diameter of cat poops. Roll logs in grapenuts and bake at 350 degrees till done (maybe 10 to 15 minutes but with my flaky oven you never know). Serve in a disposable cat litter box on a bed of grapenuts, with a cat litter scoop. I hear you get lovely effects by dec! orating the box and scoop with melted chocolate or pudding. I imagine brown sugar might work as a substitute for the new clumping litters, but i havent tried it. This recipe worked especially well at the halloween party where the table was already decorated with plastic flies


Crispy Little Pumpkins

Planning Tip:
Make up to 1 week ahead. Store tightly covered at room temperature.

3 Tbsp stick butter or margarine
1 bag (10 to 10 1/2 oz) fresh, white marshmallows (any size)
20 drops yellow liquid food color
12 drops red liquid food color
6 cups toasted rice cereal (such as Kelloggs Rice Krispies)

Stems and features:
Black licorice twists, mini M&Ms and sticks Fruit-Stripe gum

Handles:
Black licorice lace cut in 6-in. pieces

1. Have ready a 1-cup measure. Melt butter in a 4- to 6-qt pot (preferably nonstick) over low heat. Add marshmallows; stir until melted. Add food color; stir until mixture is orange. Remove from heat, add cereal and stir until well-coated. Let stand just until cool enough to handle. (If mixture cools too much, scrape onto wax paper and microwave a few seconds at a time, just until malleable.)

2. For each pumpkin: Coat hands and cup measure with nonstick spray or vegetable oil. Pack cup with cereal mixture. Immediately turn out onto work surface, form into a pumpkin shape and insert your thumb into top for stem. Let stand 30 minutes or until firm.

3. To decorate: Cut licorice twists into 2-in. pieces for stems and in tiny triangles for eyes and noses. Firmly press in place. Cut gum into smiling mouths. Firmly press gum and/or M&Ms in place for mouths (see Tip). Make holes for handles with a toothpick; insert handles.

Halloween Punch (alcohol-free)


12 oz orange juice concentrate, frozen
12 oz grape juice, white, bottle
2 litre 7-Up
1pt sherbet, lemon or lime
Green food coloring Mix together orange juice concentrate, white grape juice, 7-Up, lemon or lime sherbet, and several drops of green food coloring. Serve the punch with large plastic spiders or large plastic flies floating on the top (just be sure the spiders or flies are big enough that people will see them and they won't be swallowed by accident).


Swamp Punch (alcohol-free)
2 c Boiling water
1 lg Pkg lime-flavor gelatin
2 c Cold orange juice
1 l Cold seltzer
Ice cubes
1 pt Orange sherbet; slightly softened
1 Orange; thinly sliced
1 Lime; thinly sliced Stir boiling water into gelatin in large bowl at least 2 minutes until completely dissolved. Stir in orange juice. Cool to room temperature. Just before serving, pour into punch bowl. Add cold seltzer and ice cubes. Place scoops of sherbet and fruit slices in punch

Hemorrhaging Brain (contains alcohol)

2 Shots strawberry schnapps
1/2 Shot Bailey's
1 ds Grenadine Pour the schnapps into a lowball glass. Pour Bailey's right into the middle and then a dash of grenadine (it's just a dash of red color to look like blood). If poured correctly the Bailey's clumps together in the bottom of the glass looking like (you guessed it!) a brain (sort of). The grenadine is the "hemorrhage."


Romulan Ale (contains alcohol)

1 Fifth Bacardi
1 Fifth Blue Curaco
2 litre Sprite or 7-up
Mix all ingredients. Chill for approximately 3 hours and serve